Are you confused between Google XML Sitemaps vs. Yoast SEO? Don't worry, here we have compared Google XML Sitemaps vs. Yoast SEO in the easiest way possible to explain all the facts and features to you. So, read on this post to know everything.
Sitemaps are nothing but like a map of all your indexable urls that tells Google to index all the pages that exist on your website. There are many online tools such as XML-Sitemaps.com that help you in creating a sitemap for your website. And if you are creating your website using WordPress, then instead of using this tool, you may use a sitemap WordPress plugin to deal with all the related tasks. The two most popular and reputed among all those plugins are Yoast SEO and Google Sitemaps.
So, in this article, we will discuss how these two sitemaps work. But, before getting started with anything, we will discuss what sitemaps are.
So, without doing any jargon, let's just proceed.
What Are Sitemaps?
Basically, the sitemap is the XML file that shows the list of URLs on your website. You can go through the list and see which pages you are asking Google to crawl and consider for ranking purposes.
Google launched the protocol of the sitemaps in June 2005. After a few years, it was supported by Yahoo and Microsoft. But other search engines which are not so famous such as to ask adopted the protocol later.
Additionally, sitemaps works in groups with Robots.txt file, and its protocol advised the users that what URLs they want to exclude. On the other hand, sitemaps URLs advises users that what URLs they wish to include in search engines. In Robot.txt, you can also specify the location easily.
It is not difficult to store your sitemaps for future use because it automatically stored in your website root directory at www. Yoursite.com/sitemap.xml. Moreover, you can manually submit your sitemaps to the search engine; otherwise, it will also look for your sitemaps. You can also submit your sitemaps to Google with the help of Google Search Console and to Bing in Bing Webmaster Tools.
Google XML Sitemaps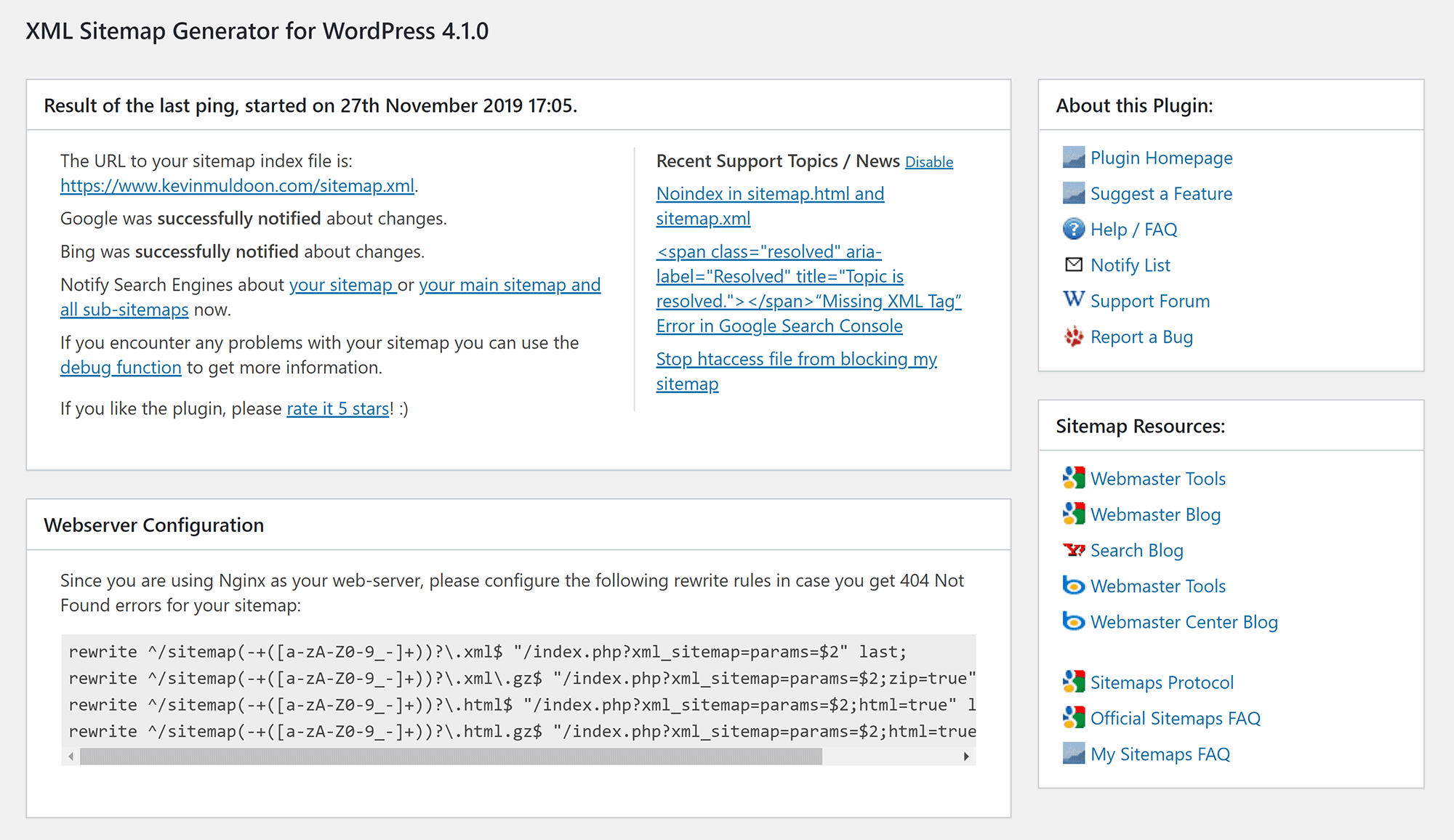 Google XML Sitemaps were developed by Arne Brachhold. The Google XML sitemaps Generator is the best sitemaps solution that gives you full control over the pages you want to get crawled on your website. If you want to see a new XML sitemap on the WordPress settings menu, then you need to download its plugin and activated it on your website.
You can see all settings of Google XML sitemaps on this page. As there are a lot of options available for adjusting it but some out of the box settings are commendable. Whenever your sitemap is updated, you can see various options in the basic option settings like to ping Google and Bing.
Moreover, it can automatically add a sitemap URL to your Robots.txt file. This area also offers some advanced options like increasing the PHP memory limit. Google XML sitemaps automatically include all the published URLs from your WordPress account. However, this plugin does not support the other URLs that were created outside WordPress.
All you have to do is add the URL and see how often the pages change and know the date of its last change. The priority of the posts totally depends on the comments they have. But you can change this setting or disable the automatic priority calculation altogether.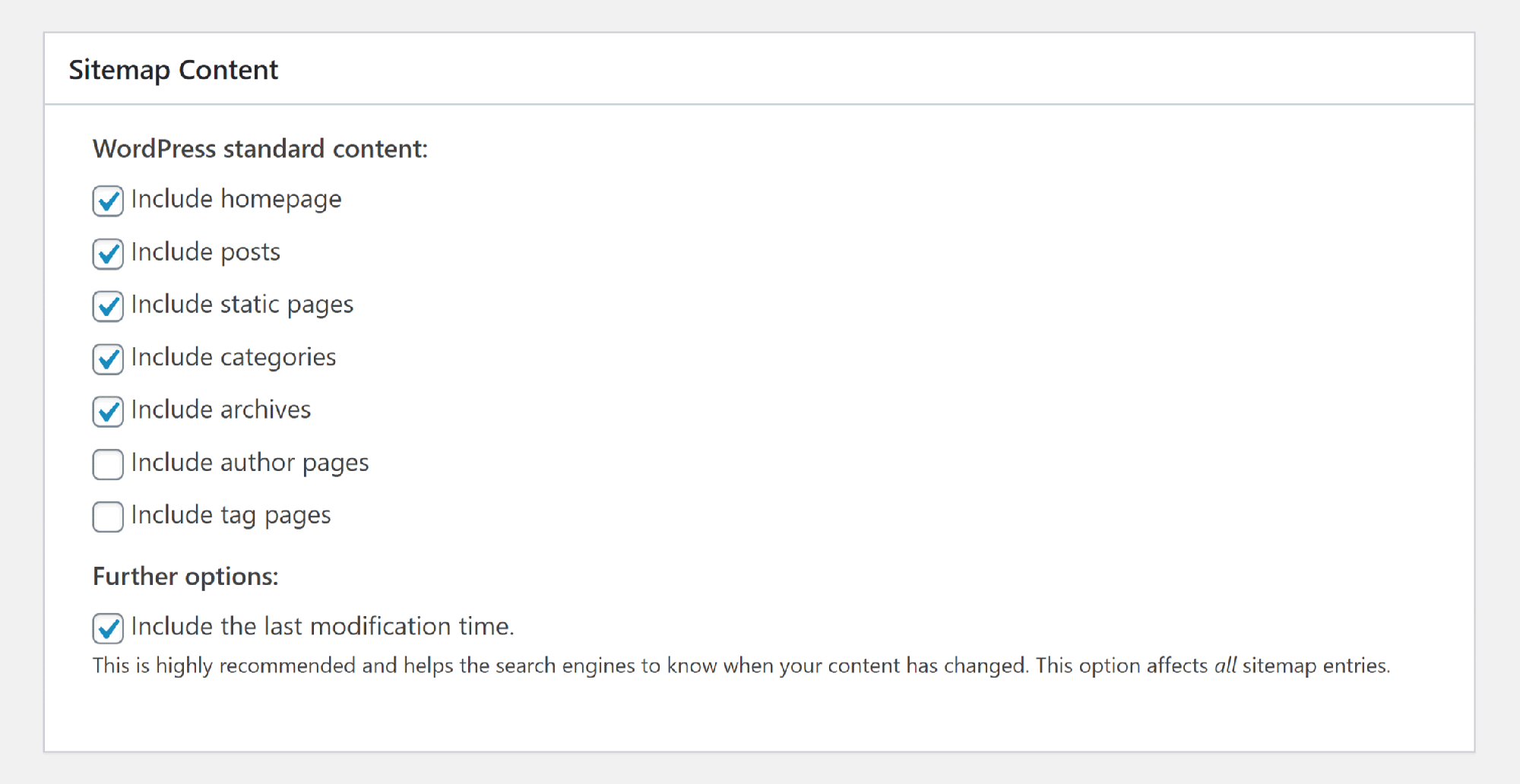 Now, in the sitemap content section, you can define what type of content you want to include in your sitemap. Google XML sitemaps also include homepage, blog posts, static pages, and archives. It also includes author pages and tag pages. But there are specific things you can exclude from your sitemaps like blog posts, particular posts, and the pages by entering their IDs.
On the other hand, the change frequency section tells how quickly your content should be updated on your website. You can change the crawl frequency of each part hourly, daily, weekly, or monthly of your website. For example, you can change the frequency of your homepage daily by default. The bloggers who publish their content frequently might want to adjust some values. You can set any value between 0-1 according to the priority of content.
Google XML Sitemaps stores your entire content at www.yourwebsite.com/sitemap.xml.
So, that's all with the Google XML sitemaps, let's now explore Yoast SEO Plugin for sitemap purposes.
Yoast SEO
Yoast SEO, as the name tells, is one of the most popular WordPress plugins on WordPress.org. This plugin is free to download. Still, you get some cool features on Yoast SEO premium as it is highly promoted among the users.
Once you have activated Yoast SEO, you will see a fresh SEO menu in the WordPress admin area.
But if you have activated both of the plugins together, then it shows a warning content in the main dashboard and explains that issue may arise if you enable both the sitemaps together. You will see the two buttons underneath that allows you to either disable Yoast SEO plugin or Deactivate Google XML sitemap plugin. You can easily enable or disable the sitemaps feature in the features tab of the general settings area.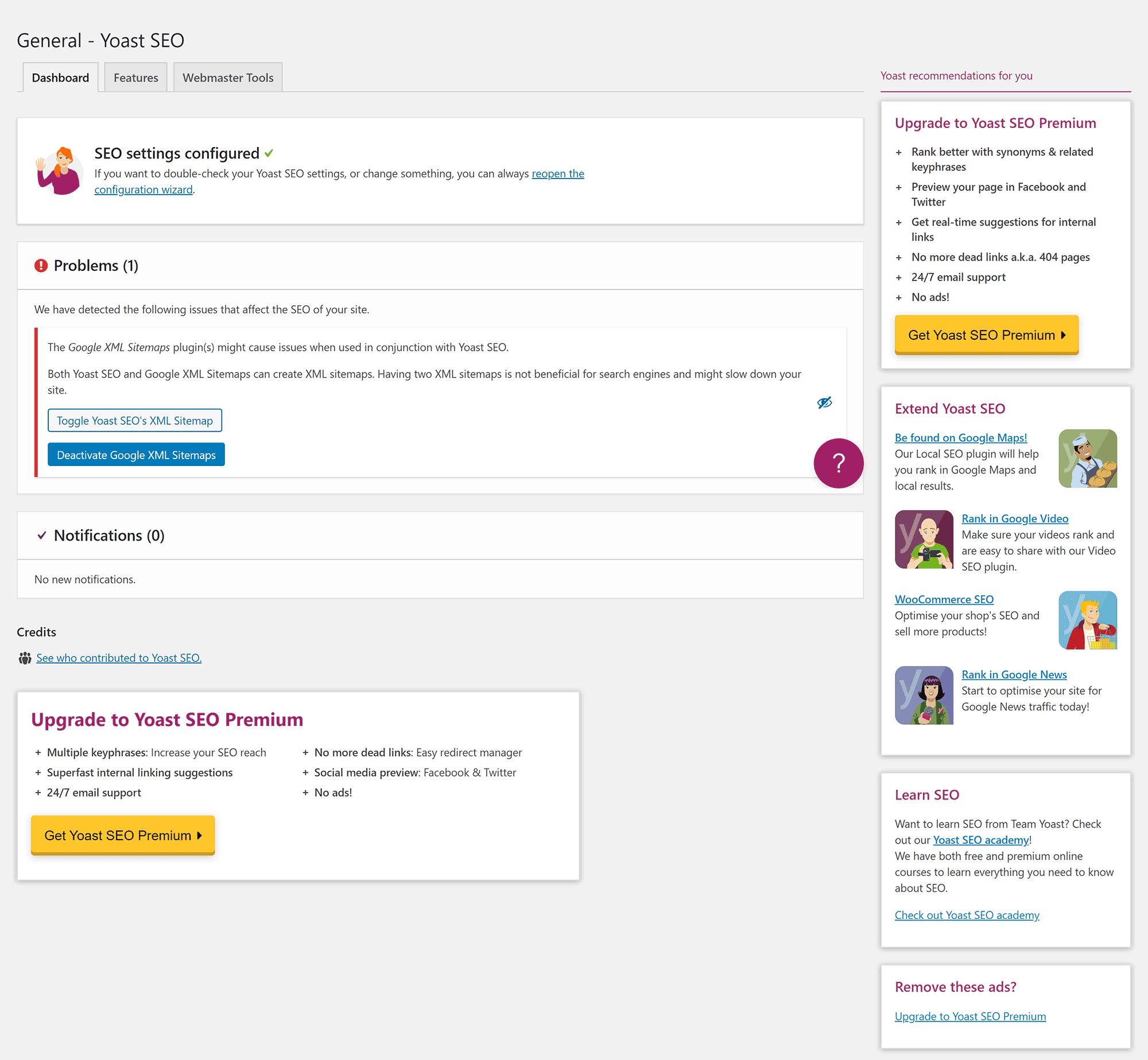 If you click on the question mark symbol, then it will show you a link to your sitemap which is located at
www.yoursite.com/sitemap_index>xml.
Yoast SEO will include sitemaps for posts, pages, and post categories. The more you published URLs, the more the number of actual sitemaps you generate on your website.
Moreover, with this plugin, you can easily include or exclude posts and pages on your sitemap. This power totally depends on the users, not on the others. This option can be seen in the advanced settings section under the WordPress editor.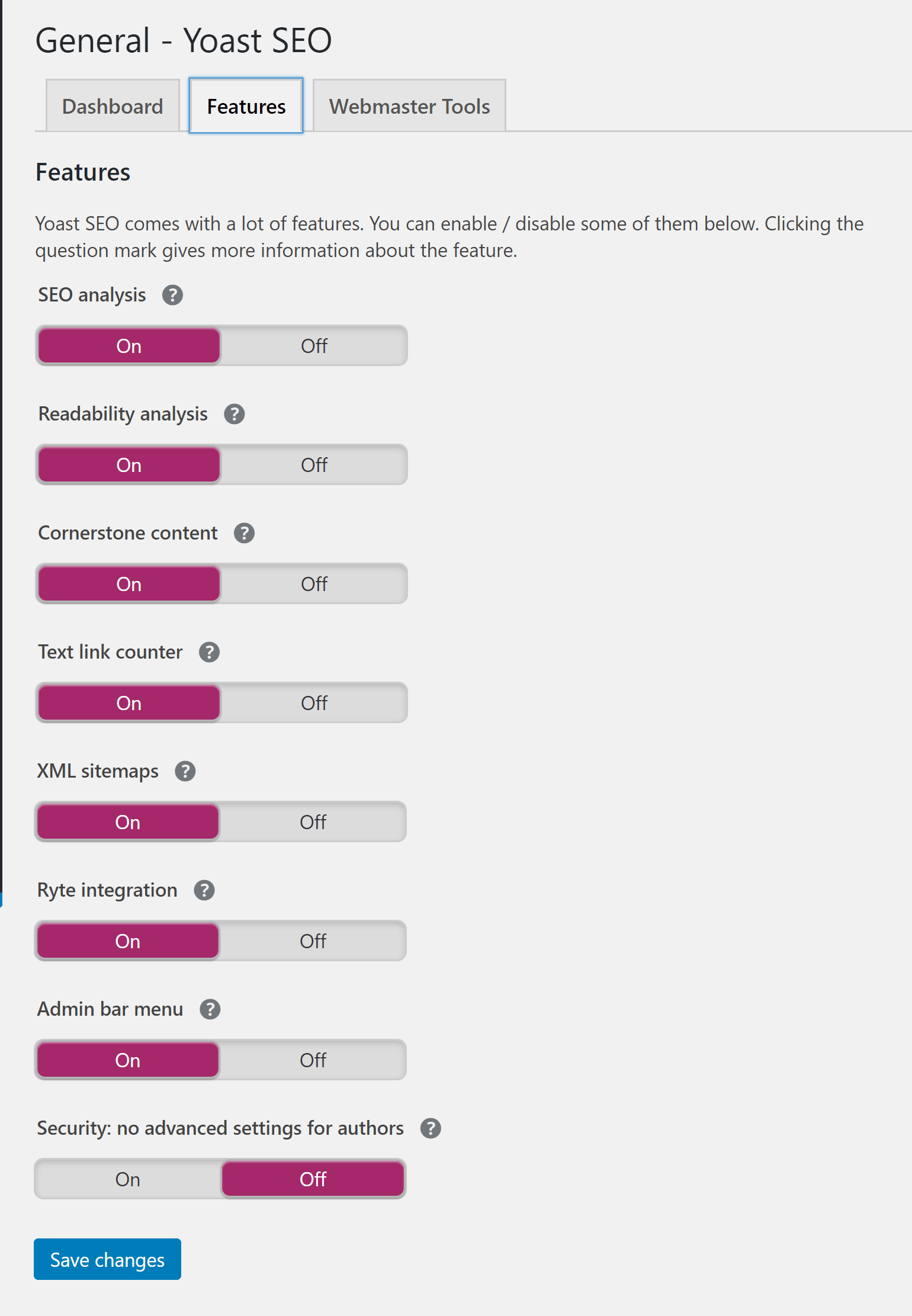 Furthermore, Yoast SEO offers you a fantastic feature, and that allows you to customize your sitemaps by using filters easily. But in my opinion, it is not user-friendly for those who publish their contents regularly.
You will see some fantastic articles in the Yoast SEO that cover the subjects includes "XML sitemaps in the Yoast SEO plugin," "how to customize sitemap index," and "add an external sitemap to Index."
It also adds cool filters to limit the number of sitemap entries, add external URLs to your sitemap, exclude or include pages and posts, exclude content type, and more. I really feel that Yoast SEO is simple to set up than the Google XML.
All you have to do is just enable the settings and check whether search engines work correctly on your sitemaps. If yes, then you are all set.
Google XML Sitemaps vs. Yoast SEO
So, that's all. We have just compared Google XML Sitemaps and Yoast SEO and noticed that both the sitemaps would automatically generate dynamic sitemaps to help the website appear on the search engine.
This plugin is versatile all in all solution that offers many SEO tools and features. But from the usability point of view, I prefer Google XML sitemaps because it makes your tasks easy by adding external URL sources. 
But if you want to change the frequency and priority of the content, then I prefer Yoast SEO because it does not exclude pages from your site maps, and you can easily crawl all your pages.
If you want to exclude posts in Google XML, then the criteria are a little tricky, and you need to enter the post IDs on the main plugin page. While in Yoast SEO, you just need to post and page level (underneath the WordPress post editor).
Summary
So, those are the primary difference between Google XML sitemaps vs. Yoast SEO.
That's all for now, and I hope you guys enjoyed reading the article, and this article clears your vision. For more updates, do follow us and stay tuned with us at The Website Dev. Also, read " Best Online HTML Form Builders" and " Best WordPress SEO Plugins."